We're pleased to host a number of open events throughout the year. Here's our latest dates:
All levels and subject area
Open Evening
Date: Thursday 16th November 2023
Time: 4pm - 6pm
Location: Homefield Road Campus
Preparing for your GCSE's and thinking about your next step? Perhaps you're wanting to return to education and up skill? Or are you finishing your Alevels and thinking about University?
The world is your oyster and we're here to support you!
Come along to our Open Evening on Thursday 16th November 4pm-7pm!
16+ study for those who are finishing their GCSEs or mature learners who want to reskill or get back into the workplace
Apprenticeships for those who want to earn while they learn
Degrees and degree-level qualifications for those finishing their Alevels and are thinking about University
Adult learning for adults who want to upskill
Postgraduate and work-based degrees 
Chat with tutors, explore the campus and take part in a range of activities. Vice Principal, Jo Richardson, will be giving talks on Apprenticeship opportunities and Up skilling from 6pm.
Plan your visit with our map (click on the image to make it bigger):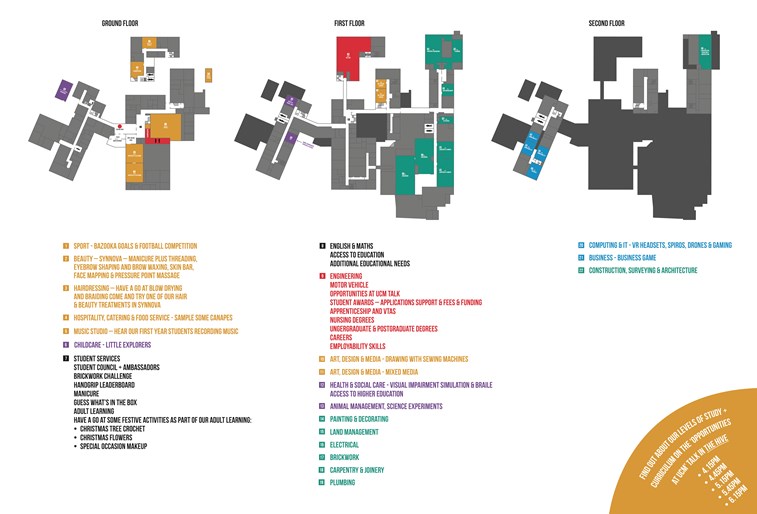 Information Morning
Date: Saturday 10th February 2024
Time: 10am - 1pm
Location: Homefield Road Campus
If you're interested in studying one of our courses starting in September we'd love to see you at our Information Morning. It's a great opportunity for you to ask our lecturers course-specific questions.
Our learning areas will be open for you explore the facilities we have available.
Our Student Services and Academic Support teams will be on hand to answer any questions you have about the wide range of support that we offer to all our students. 
Engineering Open Day & Careers event
Date: Wednesday 6th March 2024
Time: 4pm - 7pm
Location: Hills Meadow Campus
Visit our Hills Meadow Advanced Manufacturing Training Centre to find out more about the Engineering Industry. Chat with our lecturing staff and meet with employers to explore whether Engineering is the right industry for you. 
Tour our fantastic engineering workshop and see the high quality equipment we have. 
Year 13 Open day - Degree, degree-level & postgraduate
Date: Date TBC
Time: throughout the day
Location: The Nunnery
Throughout the day the Island's schools will bring A-level students who are exploring their options for Higher Education to visit our Nunnery campus to find out about our fantastic degree, degree-level and post graduate courses. 
Degree, degree-level & postgraduate Open evening
Date: 17th January 2024
Time: TBC
Location: The Nunnery
If you're interested in studying for a degree, degree-level or post graduate course this is the perfect opportunity to pop along and find out everything you need to know. Whether you're in school or are a mature student we'd love to meet you. 
MASTERS, MBA AND OTHER WORK BASED DEGREES
The Work Based and Integrative Studies (WBIS) framework allows for a highly individualised, negotiated pathway of learning. Students can negotiate a range of awards at undergraduate and postgraduate level including Bachelor of Arts or Science Hons, Masters and MBA.
Through WBIS you can gain academic credit for past personal and professional experiential or accredited learning, and to gain further academic credit through taught modules (followed up with up to 3 tutorials) and work based projects called Negotiated Experiential Learning Modules (NELMs), as well as learner support workshops to assist you in your studies.
Throughout the year we're running a series of open events where you can find all the information you need as well as speak to tutors and lecturers. 
4pm - 5pm - Thursday 14th December 2023 

4pm - 5pm - Thursday 14th February 2024 

4pm - 5pm - Thursday 16th May 2024