On 19th November, Student Services department at University College Isle of Man (UCM) ran an event just for men to celebrate International Men's Day.
Kate Bergquist from Student Services who organised the activity explained, "We wanted to celebrate International Men's Day by giving our male students the chance to have some fun and by creating a relaxed occasion when we could raise awareness of issues which relate specifically to men's well-being."
Comfortable chairs and coffee tables were arranged in the main hall where the students were encouraged to unwind, enjoy free refreshments and watch videos which highlighted male role models. The informal environment was also designed to encourage the male students to have informal and impromptu conversations about matters which may concern them.
For the more lively amongst them, Kate also organised a 'keepy-uppy' competition, a game where participants have to keep a football in the air for as long as possible by bouncing it off any part of the body except the hands and arm. Winner of the competition received a voucher for a sports massage from Karl Bruder from the Deep Tissue Massage Company. Karl was also on hand on the day to offer his services to the students, which certainly contributed to the relaxed atmosphere of the event.
"The event was a great success," reports Kate. "We are, of course, very much aware of our female students and will be marking International Women's Day in a similar way, but today it was all about the boys and it was good to have a chance to talk to individuals as well as have a bit of fun with them as a group."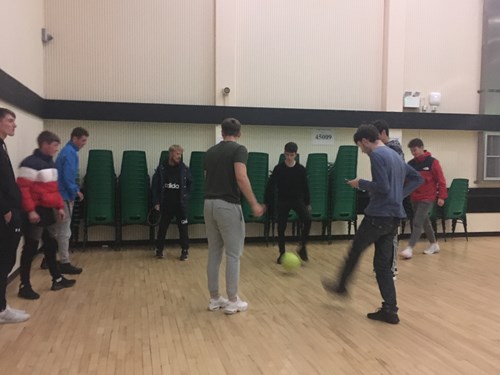 Students having fun in the 'keepy-uppy' competition.