A display of engaging and thought provoking artwork produced by eighty-one further and higher education students from the Art, Design and Media Programme at University College Isle of Man (UCM) are currently on exhibition at the University College.
The Art, Design and Media Exhibition 2018 showcases students' talent in various areas including photography, sculpture, fashion, illustration and creative media.
This annual event gives students the opportunity to exhibit their final and self-managed project, which involves their working through the various stages of creating a design throughout the academic year, which also help develop skills in research, ideation, design, material manipulation and presentation.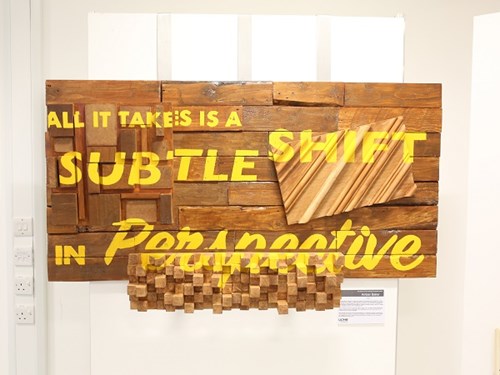 Helen Fox, Head of Art, Design and Media at UCM said, "I'm extremely pleased with the exhibition this year, as the diverse range of artwork on display as well as the high quality of work, is testament to our students' creativity, talent and passion. We would like to invite members of the public to come and visit the exhibition to see the new generation of students who will be running the creative industries, on and off Island, for years to come."
Some of the students who are exhibiting will continue to higher education at either UCM to study the BA Visual Communication degree, or other prestigious art, design and media universities in the UK.
These multidisciplinary artists have been taught by UCM lecturers and tutors, who are also art practitioners. This means that they are able to train students to apply a current and contemporary slant on traditional techniques, whilst merging the past and present themes, in a supportive environment.
The Exhibition Preview was attended by over 200 guests, including His Excellency the Governor, Sir Richard Gosney: Marlene Hendy MLC, Chairperson, IOM Arts Council; Jo Pretty, Principal of UCM; UCM Management, tutors and lecturers, as well as students' family and friends.
During the Preview, the following students were awarded the Archibald Knox Awards 2018, sponsored by Isle of Man Post Office.
Judges' Prize for 'First Year Diploma': Amy Cookson
Knox/Sayle Prize for Manx Inspired Artwork: Ellie Byrne
Knox/Sayle Prize for Innovative Work: Rachael Pearson
Highly Commended: Maile Perry and Josh Moore
Also presented during the Preview were the Fayle KPMG Awards for Creativity, which are new awards created in memory of Mike Fayle, a senior partner at KPMG. These went to the following students:
Innovation category: Alice Dudley
Dedication category: Ellie Byrne
Progress category: Kherree Goldie
Skills category: Nadya Derkozlieva
UCM is committed to providing education that empowers its students to be who they want to be by offering a wide range of courses at further and higher educational levels, as well as numerous leisure and recreational courses. For more information, please call 01624 648200 or visit www.ucm.im
The Art, Design and Media Exhibition 2018, is being held at UCM Main Campus, Homefield Road, Douglas, from Thursday 14th June – Thursday 28th June 2018; Monday – Wednesday 10am-8pm, Thursday – Friday 10am-4pm.