The achievements of over 40 students were recognised during University College Isle of Man's (UCM) Further Education Awards 2020 ceremony, which was held at UCM's main campus on Homefield Road.
An important annual event that recognises the hard work of students who have excelled within their programme areas, or who have made a positive impact on their peers and to the community, the Further Education Awards this year were a little different than previous years.
Lulu Gillow, Head of Student Services at UCM, explained "The Further Education Awards are not only a celebration of students' hard work and academic achievements, but also a great opportunity for students and tutors to come together and reflect on their time at UCM."
Lulu added, "This year, due to the covid-19 lockdown, we were unable to hold the awards ceremony at the Villa Marina however, we didn't want our students to miss out, as we know how hard they have worked. So, we hosted a smaller ceremony on campus to celebrate their success."
The awards were presented to students from across all programme areas, including; Art, Design & Media, Administration, Business & Finance, Computing & IT, Engineering, Construction, Hairdressing & Beauty Therapy, Health & Social Care, Hospitality & Catering, Sport and a special award for the Student Council.
Each student received a certificate and an Amazon voucher; hairdressing students received additional prizes which were kindly provided by independent business sponsors.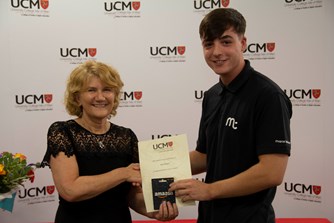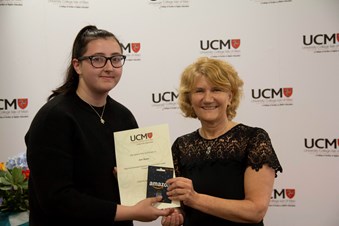 Photographs:
(Main list image) Abbie Tate, best student for Art & Design Level 3; (Left) Jack Evans, best student for IT Apprenticeship Level 3; and (Right) Jean Quaye best student for National Extended Diploma in Construction Level 3 – they are among over 40 students who were celebrated at the Further Education Awards ceremony.