Over 100 students from University College Isle of Man (UCM) and Highlands College Jersey, went head-to-head in this year's inter-island Skills Test. 
Students from construction, engineering, and hospitality & catering programme areas battled it out to showcase their skilful expertise and to determine who is top in their field. With four students from Highlands College, Jersey, competing in the construction event, and the hospitality & catering programme area now being incorporated into the competition for the first time, Skills Test has encouraged more students to get involved and sharpen their techniques for the occasion.
Skills Test not only provides students with an opportunity to demonstrate their trade talents, but also celebrates the complexities of vocational qualifications. Chris Franklin, Hospitality & Catering Assistant Programme Manager explained, "It is brilliant to see that so many young people competed this year and were genuinely proud to show off their skills."
Hospitality & Catering students participated in the live competition for the first time, honing their creative abilities to produce some delicious dishes. Chris added, "Our students prepared some wonderful creations against the clock and they handled themselves very professionally in the kitchen."
Prizes for the Hospitality & Catering Skills Test were kindly provided by local businesses within the food and hospitality industry: Robinsons, Claremont Isle of Man, A&J Quality Butchers, WDS Limited, Nisbets, MannVend, L'experience and Rational.
This year, UCM welcomed the return of Highlands College Jersey, who had four students competing in the event. Construction Programme Manager Corelli Bentham, expressed her delight, "This is the fifth year of the Construction Skills Test and I am extremely pleased to see so many students from both UCM and Highlands College, Jersey, coming together for some friendly competition".
All prizes for the Construction Skills Test were sponsored by Haven Homes and the Isle of Man (IOM) Construction Federation.
Some items built during the Construction Skills Test will be raffled off, with all proceeds going to REACH IOM, a charity which offers support to individuals struggling with mental health.
Now in its second year, the Engineering Skills Test saw students compete to demonstrate their machining abilities. John Cashin, Engineering Assistant Programme Manager commented, "It was great to see so many students rise to the challenge this year. Skills Test forges noticeable confidence inside young competitors and it's brilliant to see the excitement for the event growing every year".
Prizes for the Engineering Skills Test have been donated by local engineering and manufacturing businesses: Swagelok, Strix Technology, Triumph Integrated Systems, Target Tools and RLC-Ronaldsway.
Winners for Construction Skills Test:
Brickwork
1stJak Stott
2ndOwn Bowman
3rdMichael Glover
Carpentry and Joinery
1stRichard Abreu – Highlands College Jersey
2ndChris Egan
3rdLucy Barlow
Electrical
1stAndrew Large
2ndJosh Reed
Horticulture
1stMatthew Cain
2ndMichael Shanley
Plumbing
1stHannah Willcocks – Highlands College Jersey
2ndJack Thompson
Painting and Decorating
1stLeon Bayle
2ndDavid Jenkinson
Winners for Hospitality & Catering Skills Test: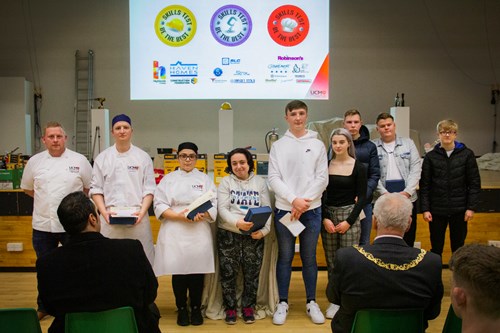 Skills Test 1 – The Claremont Hotel Manx Produce Dish
Kyle Lake—Winner
Jack Thomas—Runner Up
William Bexon-Ingham—Best Hygiene
Skills Test 2 – The Robinson's Fresh Foods Classic Recipe Test
Callan Reed—Winner
Natalie Kneen—Runner Up
Ella Marshall—Best Hygiene
Skills Test 3 – The A&J Quality Butchers Meat & Poultry Challenge
Daniel Moon—Winner
Francesca Bugeja - Runner up & Best Hygiene
Winners for Engineering Skills Test: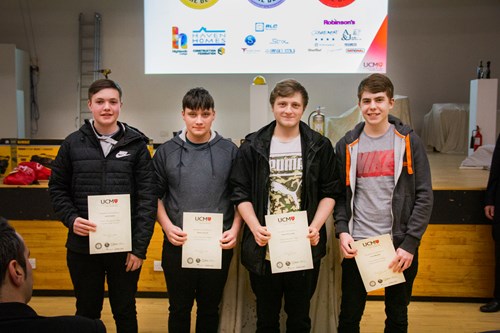 Manual Turning - Jacob Leece
Manual Milling - Nathan Quayle
CNC Turning - Eedin Kennaugh
CNC Milling - Scott Moffatt