Achievements of over 80 further education students were recognised at University College Isle of Man's (UCM) Further Education Awards 2021 at Villa Marina, Douglas.
The awards ceremony is a key annual event for UCM that acknowledges students who have achieved academic excellence as well as those who have made an impact on their peers or to the community.
It is also an opportunity for further education students to get together with their peers, family, friends and those who have supported them throughout their studies, at the end of the academic year.
The Chief Minister, Hon. Howard Quayle MHK congratulated the students in his closing speech and said, "It has been a challenging year for all, and even more so for all of you who have had to adapt to new ways of learning, during the lockdowns. Your determination is admirable; your perseverance is incredible. Well done for all your achievements!"
In addition to 64 awards that recognised the best student for each course, this year there were additional awards that recognised other outstanding achievements.
The Heather Christian Award, which recognises outstanding peer support, was presented to Creative Media Production and Technology (Level 2) student, Connor Kennish, for his devotion to helping others and his consistent positive and supportive attitude towards staff and students.
The Student Council Member of the Year was awarded to Jackie Wade, for the exceptional leadership skills she demonstrated during her tenure as the President of the UCM Student Council.
The Teamwork within the Community Award this year was presented to two teams, both from the Art, Design, Media & Music department for the collaborative work they have done to support local charities.
Aimee Cowin and Erin Done developed a vinyl mural with picture frames for the 'Trees of Memory' in the new Rebecca House extension. The Extended Diploma in Art & Design (Level 2) students: Carmella Pabellan, Ashleigh Christian, Aimee Cowin, Lydia Gray, Abbie Tate, Naimh Pemberton, Marie Tulbo collaborated with Hospice Isle of Man to raise awareness of the importance of sustainability in the modern world.
The highlight of the evening was the Apprentice of the Year award which was presented to Lucy Barlow, a Carpentry & Joinery student, for her high standard of work both in the classroom and workshop, and for taking great pride in the accuracy and quality of her work.
Jo Pretty, UCM Principal, praised students in her opening speech for their positive attitude during Covid-19 disruptions,"Transitioning to online learning can be difficult, but you have demonstrated great adaptability and self-discipline throughout these challenges, and should be very proud of yourselves."
"Every student in this hall tonight, has gained valuable qualifications which will have an impact upon your immediate futures, but remember, motivation starts within.  Find it, keep it and make it work for you, for now and in the future."
The event was attended by the Minister of Education, employers, UCM governors and staff, as well as the family and friends of students who received awards.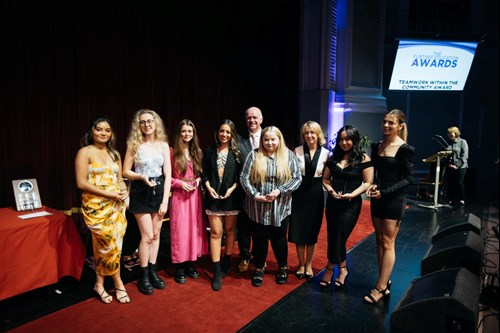 'Teamwork within the Community' award winners.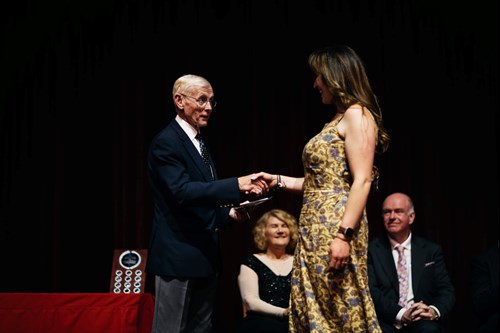 'Apprentice of the Year' award being presented to Lucy Barlow by Sir Richard Gozney KCMG CVO.