University College Isle of Man's (UCM) Higher Education ceremony was held at the Villa Marina, Douglas to recognise the academic achievements of UCM and UK graduates.
115 higher education students from UCM achieved their degrees and higher technical qualifications this year.  With a staggering 82% of UCM students studying at degree level achieving a First Class or Upper Second-Class honours degree, compared to 79% of UK graduates who achieved the same grades (Higher Education Statistics Agency 2019/20).
Each year, UCM select an individual to be awarded the title of Honorary Fellow, an accolade which recognises those who commit time and effort in supporting the vision of UCM and those who have achieved outstanding work within their own field or the community. With over 25 years of experience in the field of music, Dr Peter Litman, Director of Music and Organist at St Germans Cathedral, Peel, was selected this year.
Dr Litman said, "I feel immensely proud to receive this year's Honorary Fellowship from UCM. Music is so strong and important to our Island community, and I believe that universities are the most important institutions in our society. They are the one place where art and truth have freedom, uninfluenced by the commercial and political world. To receive an honour from such a place should be treasured".
The evening saw virtual speeches from Professor Helen O'Sullivan, Deputy Vice Chancellor from the University of Chester, and last year's honorary fellow, Professor Peter Edge, whilst former Chief Minister, Hon Howard Quayle opened the event and Jo Pretty, UCM Principal closed.
Surprise guest and world-renowned actor, John Rhys-Davies, came on stage to address the graduates with a motivational speech which detailed the importance of having self-confidence and treating others with kindness.
The 2021 Student of the Year award was presented to Isobel Jagus, BN (Hons) Mental Health Nursing for her outstanding academic achievements and excellent attendance. Isobel has just commenced her preceptorship as a full time duly registered mental health nurse.
The event also saw local restaurants show their support by offering various discounts and reductions for graduates and their families to enjoy and continue the celebrations after the ceremony. Businesses included: Coast Bar & Brasserie, Jaks Bar & Smokehouse, The Ocean Views, JC's Bar & Restaurant and Bonds Restaurant.
Over 20 Manx graduates, who achieved their awards at UK based universities and have been unable to attend their own ceremonies due to covid-19 disruptions, were once again invited to celebrate with their family and friends; adding to the true spirit of the Isle of Man as one community.
Jo Pretty, UCM Principal, said "We recognise that our graduates have been fortunate to be supported and nurtured by those around them.  The most pressing debate at the moment is to achieve sustainability for our planet, but it is also important to remember the difference our graduates can make in sustaining the health, resilience and adaptability for themselves and those around them in a fast-changing world.  I am confident our students will take time to look out for one another and do very well in their futures".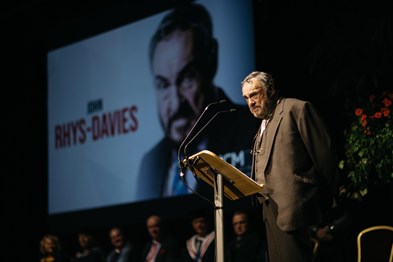 Guest Speaker, John Rhys-Davies
Class of 2021 celebrating on the Villa Marina stairs